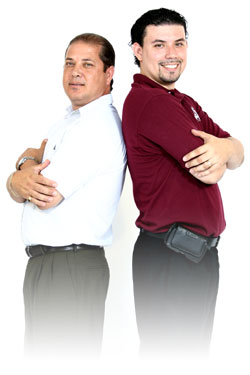 The vision of Church With A Purpose is to establish a community of healthy, balanced, growing believers that love God and each other so much that is shines through every area of their lives. As a church, we are committed to providing the very best atmosphere and support for our members, giving them opportunities to serve and be served.

Church History
The vision is in the works. The church started as Restoration Ministries in 1997, as a radio ministry hosted by Pastor Jose Gomez, Sr and family, entitled "The Hour of Restoration". Being of Hispanic decent, the family preached in Spanish to listeners across the Tampa area. During this time, they were serving as associate pastor and ministers for Abundant Life Church in Spring Hill, Florida where they had spent about 10 years faithfully serving and preparing for the ministry that God was calling them to. The ministry's pastoral staff attended Faith Theological seminary and college, where they received varying degrees and diplomas in theology and pastoral ministry. Ordained by Faith Outreach Center Ministerial Fellowship, they had already incorporated Ministerio De Restauracion as a ministry and were coming to Tampa every week to minister to the children at Riverview Terrace on Florida Ave. It was the training ground for what was to come.
Humble Beginnings
In 1998, God spoke to Pastor Jose Sr. and his family to open a church in Tampa. They met at Word Bible Church on Nebraska Avenue, just down the street from where God would eventually help the ministry establish roots. The church began with only the pastors and their immediate family. God honored their faithfulness by bringing people to the church. During this time they were ministering in the inner city projects called Riverview Terrace on a bi-weekly basis and did so for over one year. They took the word, drama, music and more to the children of that community.
The Move West
The church temporarily moved to Faith Outreach Center, in Town 'N Country in mid 2000, spawning more growth and help with the vision that God had given to them. Eventually, Restoration Ministries found a permanent home in Castle Heights, in a church building being offered for sale by Iglesia La Paz.
Return To the East Side
2001 marked a year of transition for the ministry, as its church ministry continued to grow and currently helps provide the manpower for the overall ministry vision. By this time the ministry had made a transition from Spanish to bi-lingual because of the different cultures that were attracted to the ministry. From these humble beginnings the ministry has become a bi-lingual multicultural ministry that God is using to restore and equip men and women to reach others for the Kingdom Of God. Through this remarkable ministry, hundreds of families have been fed, Toys and gifts are given to the children of the community for Christmas, and thousands of dollars in grants have gone to providing educational and artistic resources. Families have been restored - even after divorcees had already been finalized!
God Proves His Faithfulness
More than half a decade later, Restoration Daycare was added, part of the vision that God gave the pastors when they first started the ministry. God continued to guide the leadership of Restoration Ministries, always giving clear direction and confirmation of His hand in everything that is done. People were still being saved, healed, delivered, and restored by God's grace through the obedience of a small group of people that have chosen to obey God.
The Reinvention
In late 2005, the pastoral family entered into a time of personal crisis as Pastor Jose Sr. lost his wife and ministry companion of over 29 years. It was a difficult time for the entire church, but God had a promise to keep - and he did. By the grace of God, the support of the church, and the strength of the leadership team, their heads began to lift enough to see the ministry reinvented before their eyes. God gave the church a clear revelation of its purpose in Tampa. The church sold its property in East Tampa and moved west to N. Lois Ave. Today, that Church With A Purpose is pushing forwards towards the promises of God.
The testimony of our church is that God is faithful, especially when times are hard. We want to let people know about this faithful God. We would love to do this shoulder to shoulder with you. If God has touched you by this testimony, please click here and let us know. God bless you for taking interest in us enough to see where God has taken us through. We pray it has blessed and encouraged you.